We offer a safe and effective alternative to harsh commercial pressure washing services.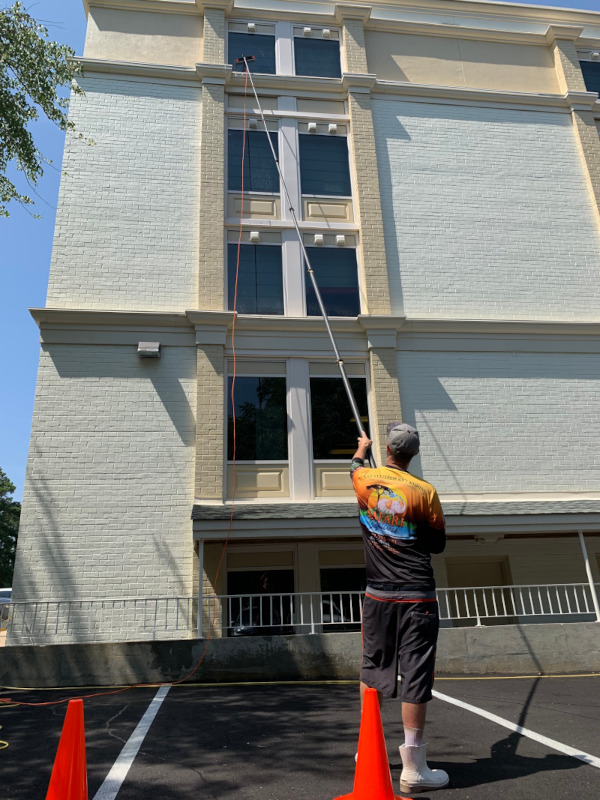 If you are looking for a traditional commercial pressure washing company, here at Safari Softwash, we have something even better that we are excited to tell you about. Our exterior cleaning services for commercial properties in the Newport News, Virginia area utilize the innovative softwashing method that is a safer, more effective alternative to traditional commercial pressure washing.
Any number of things can begin growing on a commercial building and make it look less than appealing. That isn't the image you want to portray to the public and potential customers. In addition, those contaminants can cause damage to the surface if not removed regularly. When it comes to places where people walk, such as parking lots, walkways, patios, and so forth, there is also the increased risk for slipping and falling incidents. The good news is that our alternative to commercial pressure washing allows the surface to stay clean longer because it removes the microbes along with the dirt and grime.
Another thing to remember is that commercial pressure washing isn't safe for some surfaces. Softwashing is a good option for brick, stucco, roofing, fencing, decks, gutters, and other surfaces that are less durable than concrete. For example, our method won't strip granules from roofing shingles like pressure washing can, which is why softwashing is the best option for residential and commercial roof cleaning.
If you have one or more areas of your commercial building that you've been thinking of having a commercial pressure washing company address, please reach out to us first to learn more about the effective and safe softwashing alternative.
---
At Safari Softwash, we offer commercial pressure washing services in Williamsburg, Jamestown, Newport News, Yorktown, Providence Forge, and Toano, Virginia.